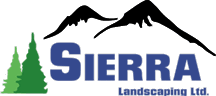 11190 Deldor Rd,
Winfield, BC
V4V 1V8
Landscaping
Commercial Landscaping
We have created vibrant landscapes to enhance any commercial building such as Wallmart, McDonald's Restaurants, and Superstores in Vernon, Kelowna, Penticton, and elsewhere in British Columbia.

We install complete landscapes inclusive of irrigation systems, hard landscape features such as pavers, wall systems, stone, and much more.
Residential Landscaping
Are you building a new home or renovating a classic? Whatever your choice, we are prepared to sit down with you and have our landscape experts help you design the project with care.

Once we have completed a design, we will provide trained and experienced staff to install your landscape, as per our design, or one that you may already have.

We also have staff available for those very small projects, from one hour to as long as it may be required. From pruning to replacement of individual shrubs or trees. Small turf projects to what have you, feel free to call Bernice for booking.
Municipal Landscaping
We do complete downtown revitalizations inclusive of civil and electrical upgrades, hard surface installations and specialty items such as benches, litter receptacles, and much more. We also offer annual maintenance contracts to keep your landscape infrastructure in top shape, maximizing enjoyment for all your citizens.